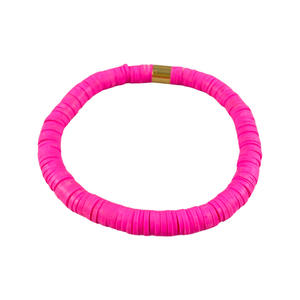 Hot Pink Stretch Bracelet
This listing is for 1 bracelet.  Make sure you update quantity for more.  Each is made standard size about 6.75 to 7". They can be made in other sizes as well. 

CARE INSTRUCTIONS:
* Care should be used to avoid unnecessary over-stretching.
* Do not leave bracelets out in direct sunlight for long.
* Bracelets may vary slightly in coloring and markings. Each one is unique in its own way.
* Always supervise younger children while wearing bracelets. Do NOT let children put the jewelry in their mouth or play with the jewelry unattended.