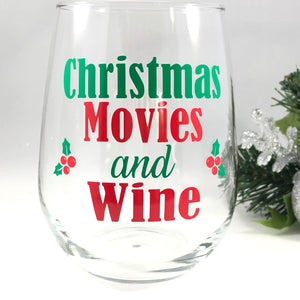 Christmas Movies and Wine Glass
PRODUCT INFO:
*17oz Stemless Wine Glass
*Permanent Grade Vinyl 
CARE INSTRUCTIONS:
*HAND WASH RECOMMENDED
*DO NOT USE BLEACH OR PRODUCTS CONTAINING CHLORINE
*DO NOT MICROWAVE OR PUT IN FREEZER

**Color may look slightly different depending on your computer/phone screen.

**Each glass is handmade so there may be slight variations from design to design!

PLEASE MESSAGE US WITH ANY QUESTIONS OR SPECIAL REQUESTS!!